Manbinder Sidhu, Ashra Khanom, Mark Dayan and Chiara Dall'Ora, panellists from the HSR UK 2020 opening plenary 'Lessons for International HSR from the Covid-19 pandemic', discuss the top questions posed by our audience.
Last week we took part in the HSR UK 2020 opening plenary on evidence use and policy responses during the Covid-19 crisis, chaired by Judith Smith. The informative and thought-provoking presentations by Josep Figueras and Trisha Greenhalgh, and our responses, sparked a lively and engaging virtual dialogue, where our more than 600 attendees from all over the world asked 65 questions. If you missed it you can watch the whole plenary on the HSR UK website.
Although we were not in the same physical conference room, we could certainly feel the buzz as questions popped up on the screen! As time was limited, we could not answer all questions live: to make amends, in this blog we identify themes and provide some answers. We should note that we refer throughout to the UK, but there are some important differences between the pandemic responses of the four countries, and some of our comments refer primarily to England.
Masks 
Many questions related to Trisha Greenhalgh's presentation on wearing masks as a case study in how to use evidence to support the right decisions – or how not to.
Some attendees asked whether low adherence to mask wearing was just a manifestation of British culture, which could be difficult to shift. Our answer would be probably not: look at Italy, where culture about shifting masks changed very rapidly in the face of advice and a terrible outbreak.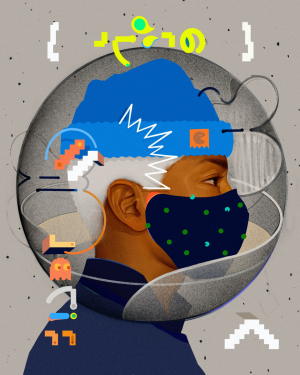 The one place where culture may have made an important difference was not among ordinary people, but among scientists themselves. In the UK "good science" was associated with caution, with an assumption that it was better not to act until the evidence base was solid, and with a definition of solid evidence as being primarily about controlled experiments – above all, randomised controlled trials.
Another delegate asked whether this meant we now urgently needed a randomised controlled trial of mask wearing by members of the public. The problem may be that because of the solid evidence that masks are at least associated with lower spread of a potentially fatal infection, no ethics committee would be willing to sanction an experiment exposing some communities to wear a mask whilst requesting others not to wear them.
Policy and evidence 
Workforce 
A question was asked about how to ensure we learn from different workforce policy responses to Covid-19. This crisis overwhelmed the majority of health systems around the world, and this was documented in the data now routinely collected by many organisations. Also, several surveys and qualitative studies to understand the impact of Covid-19 on workforce wellbeing have been launched. If these data are integrated, the potential of learning which workforce organisation practices have worked is high.
For example, has offering staff to work flexible shift patterns in Nordic countries resulted in fewer staff being off sick or leaving the profession? Or has the status of staff as heroes in countries like Spain and the UK helped prevent their deaths? We argue for a collective approach in making such data easily available and joining forces to integrate and analyse them. As researchers and knowledge brokers, we must work with patients and the public, as well as the health workforce itself, to identify questions and achieve access to the relevant available data.    
The healthcare response 
One delegate asked what was different about policy responses during a pandemic, and whether lessons from this period could be applied to all healthcare policy making decisions.
Throughout the Covid-19 pandemic, we saw that the rethinking of systemic, embedded organisational practices led to innovative use of resources to address the problem at hand. This included the adoption of digital consultations in primary care; pooling of resources (staff, ventilators and beds) between hospitals, and the leveraging of private health care to meet demand.  
Attitudes towards knowledge brokering and hierarchies of decision-making have been challenged, leading to rapid decision making – for example, speeding up ethical approvals to facilitate vaccine development and greater collaboration between NHS services.
Yet, many have been excluded from the decision-making process, notably those from the social sciences who can provide contextually relevant nuanced evidence on the impact policy decisions have on the wider population and particularly underserved communities. It will be up to policy makers and members of the research community alike to engage with primary and secondary care practitioners, public health, third sector organisations, local government and patients and patient advocacy groups to provide the evidence base on what worked well during the pandemic and what did not.  
Transparency and accountability 
A couple of delegates raised questions about the importance of transparency and accountability. During a pandemic it is important for leaders, scientists, the media and big business to act responsibly and provide stability by building public trust.  
Public trust is fragile and can be easily undermined if information is withheld, inflated, or fake. Countries that have responded well to the Covid-19 crisis such as South Korea, New Zealand, Greece and Germany have been open and frank about what they know and don't know about Covid-19, what is working well or not.
In comparison, countries which have fared poorly, such as the USA and UK, have been closed, unclear, and vague in relation to explaining policy decisions to the general public: for instance, when to implement a nationwide lockdown and why, whether the public should wear masks or not, and how best to introduce a viable track-trace-isolate policy. In a closed or weak communication environment, there is a danger that the public will seek certainty from other sources of knowledge, some of which may lack integrity and consequently lead to confusion around what to expect and what information to follow. 
Speed of decisions and how advice was used 
The presentations prompted one delegate to ask whether we needed to rethink how scientific advice was given and used in decisions. The answer for the many countries who have not matched exemplars like South Korea will almost certainly be yes. 
It seems possible that the consensus-driven, committee-based, cautious structures in place in many countries may be less well suited to the very rapid, decisive, operational decisions needed in a crisis like this. The accountability provided by transparency may again need to play a larger role. 
Conclusion 
As the Covid-19 pandemic continues, there have been a number of lessons learnt about the nature of knowledge brokering, interpretation of evidence, and subsequent policy related decision making from across the world. But many questions remain unanswered: What will be the long-term impact of such policy decisions on health service delivery, the workforce, and communities?  What is the best way to communicate policy decisions in a transparent and accountable fashion in a rapidly changing environment? And, how do we get a range of experts to discuss policy at the table where decisions are made? We feel the time is right to examine and critique Covid-19 policy responses and seek opportunities for change from this extraordinary situation.  
Dr Manbinder Sidhu is a Research Fellow at the Health Services Management Centre, University of Birmingham
Dr Ashra Khanom is a Research Fellow at Swansea University Medical School, PRIME Centre Wales (Wales Centre for Primary and Emergency Care Research)
Mark Dayan is a Policy Analyst and Head of Public Affairs at the Nuffield Trust
Dr Chiara Dall'Ora is a Senior Research Fellow at NIHR CLAHRC Wessex at the University of Southampton
With thanks to Professor Trisha Greenhalgh for providing responses to the questions on masks.
Image created by Samuel Rodriguez. Submitted for United Nations Global Call Out To Creatives - help stop the spread of COVID-19.