Senior Research Fellow, School of Healthcare, Faculty of Medicine & Health, University of Leeds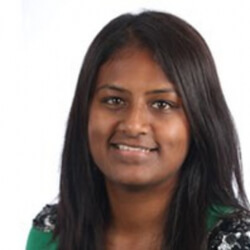 Dr Reena Devi carried out her BSc degree in Human Psychology, and her MSc degree in Health Psychology, both at Aston University. She then completed her PhD at Coventry University, the title of her thesis - Evaluating the Effectiveness and Feasibility of a Web-Based Cardiac Rehabilitation Intervention.
From 2014 - 2018 Reena worked as a Research Fellow at the University of Nottingham, working on projects aiming to improve health care services delivered to older people. From 2016 - 2018 she worked on a project called the Proactive HEAlthcare of Older People in Care Homes (PEACH) study. The PEACH study used a Quality Improvement Collaborative (QIC) approach to improve the delivery of Comprehensive Geriatric Assessment (CGA) to people living in care homes. Reena's role on this project included being part of a team delivering the QIC intervention, and also using a realist approach to evaluate what works, for whom, and in what ways when a QIC is used to improve the delivery of CGA to people living in care homes.
At the University of Leeds Reena continues to work on care home related research.