Tara Lamont has made the most of HSR UK's online format this year. 
I have just enjoyed the barnstorming first plenary* on evidence use, managing uncertainty and competing narratives at a time of COVID-19 crisis. Challenging and refreshing takes on the current crisis and responses from stellar speakers, Josep Figueras and Trisha Greenhalgh, and a varied panel of health service researchers and communicators. The closing remarks confirmed the value of a plurality of research approaches and a need for rigour and creativity.
This is the first time that the annual HSR UK conference has gone virtual, as a response to current restrictions. It is not the same as the buzz of a conference, bumping into people at stands and siderooms, idle conversation sometimes leading to great and unexpected collaborations.  But there are benefits too to an online offering. You can stay in your `loungewear' (as I think no one of any generation says ever). Plus no longer the agonising choice between good parallel sessions! You can dip into the wealth of interesting workshops and presentations online, as well as joining live plenary sessions in days to come.
In no particular order and reflecting the serendipity of the 'flâneur' approach to this virtual  conference-going – sauntering breezily past the shop-windows of research offerings and checking out the wares – these are the presentations which caught my eye. [Note, although you can take your pick, these short presentations have been helpfully grouped into themed areas like integrated care and improving quality and safety.]
There were several good presentations on new staff roles, from Mark Kingston on non-urgent care by paramedics in care homes to a number of studies on new roles in general practice.  These ranged from social prescribing link workers (Abigail Tazzyman) to clinical pharmacists and physician assistants (Jon Gibson). A common theme was fuzzy definitions and lack of role clarity – a point also made in a presentation by Vari Drennan on advanced clinical practice role and recent uptake in areas outside emergency departments.  Response to medical and other shortages have given rise to a number of new staff but longer term career paths, social and professional identity often ambiguous.
I was struck by the number of studies with good use of routine data.  This included evaluation of an integrated community respiratory service to reduce avoidable COPD admissions to a study looking at how trials change practice (spoiler – they mainly didn't).  In this case, Katherine Reeves used time-series analysis to track the impact of three important orthopaedic trials, favouring cheaper and less invasive options.   Another great use of national routine data was showcased in Alison Porter's presentation on the impact of risk prediction tools on emergency admissions across the UK.  This was a powerful case study (Wales) in disinvestment when promising policy interventions failed to deliver. 
But there were plenty of stories as well as statistics.  An ethnographic study by Sabi Redwood in two hospitals on delayed discharges used a compelling image of deconstructing and reconstructing narratives.  Important information about frail older people's lives – how they were functioning before their fall, the neighbour who popped in everyday – was lost and fragmented during hospital stays and given less value than formal clinical data.
There are also lessons and reflections on the practice of `doing' research. This included Laura Sheard's impassioned plea about the difficulties in recruiting engaging staff and patients in health services research, given understaffing and work pressures. She argues that researchers often present this as local difficulties, unique to their study, rather than seeing it as a constant and universal problem.  
Some issues seem haunted by our lives before COVID-19, presentations accepted well before it became a household name.  Were we really so tentative about the potential for online booking of GP appointments (Abi Eccles) or virtual outpatient services for liver transplant patients (Janet Jones)?  I was struck too by the study showing harms from lack of join-up on digital integrated care records, from people with COPD exacerbations being given inappropriate high-flow oxygen to failure to record end of life wishes.  These all seem much more urgent in COVID times.
In a workshop session on culture change, led by Michael West, there were questions about whether the extraordinarily rapid changes by staff and organisations in the last few months will last. Is it genuine and sustained innovation or an immediate response to the `necessity' (as Graham Martin puts it) of an extraordinary situation. Do we know enough about unintended consequences in terms of patient safety breaches and harms from workarounds? Have existing inequalities in health access and outcomes been exacerbated? What is the impact of relocating and transforming services on team and individual wellbeing? There are a lot of unanswered questions. But from the showing at this conference, there is no shortage of talented health service researchers with diverse skills to tackle these head-on.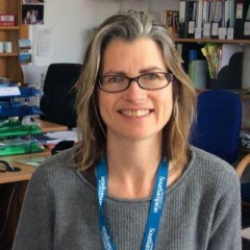 Tara Lamont works at the Wessex Institute of Southampton University and is a member of the HSR UK Board.
*Recordings of the live events will be available to watch soon!