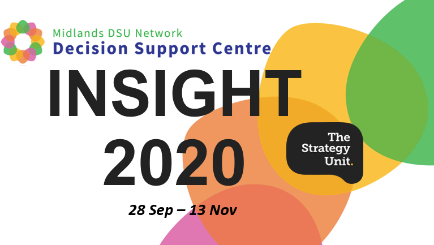 The Strategy Unit are hosting a 6-week festival of virtual events, called INSIGHT 2020, exploring some of the challenges facing decision-makers in health and care in 2020 and beyond; emerging models of practice to make best use of analysis to inform decision-making; and some of the exciting work that is already happening in this area.
INSIGHT 2020: a festival of analysis and learning for the NHS, Local Government and our partners will run from 28 Sep to 13 Nov 2020.  The festival will comprise a mixture of events, workshops and panels, representing conversations at a local, national and international level.  For example, our festival launch session includes Ben Goldacre talking about 'How open approaches can revolutionise health data science in the UK'. This will be followed by Andi Orlowski who will be exploring "Dangerous analytics…and how local analysts can save you!". Andi is a health economist and a national advisor for population health management (PHM). Andi starts his new role in October as Director of the Health Economics Unit at MLCSU, a new team working alongside and in collaboration with the Strategy Unit." We will finish off with a Q&A hosted by the Strategy's Unit's Professor Mohammed A Mohammed.
Register using the link above. Recordings of past sessions are also available for all to watch.