When
On
11 Nov 2021 16:00 — 18:00
Where
The Evidence Quarter, Albany House, Petty France, London SW1H 9EA (and streamed)
This event has now passed- watch a recording of the live stream below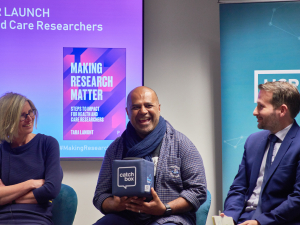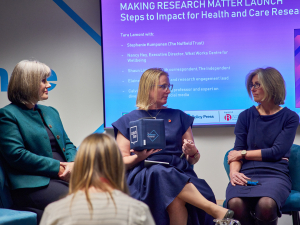 On 11 November at the Evidence Quarter we heard from Tara Lamont (NIHR, and HSR UK Trustee), author of Making Research Matter, and a fantastic panel of guests on communicating health and care research to different audiences.
Drawing on content from the book and panellists' experience in fields from journalism to health and care practice, we discussed how to reach different audiences with an interest in research (practitioners, public and policymakers) and how to achieve maximum impact.
Chair:
Stephanie Kumpunen, Senior Fellow, The Nuffield Trust
Panellists:
Nancy Hey, Executive Director of the What Works Centre for Wellbeing
Shaun Lintern, Health correspondent, The Independent
Elaine Maxwell, Nurse and research engagement lead
Calvin Moorley, Nursing professor and expert on diversity, reach and social media
Timings:
From 16.00: Arrival and registration
16.30: Event will start promptly
17.45: Drinks & networking
Listen to author Tara Lamont speak with Policy Press about why it's so hard to make research matter in today's world and how to try and overcome this difficulty.
#MakingResearchMatter