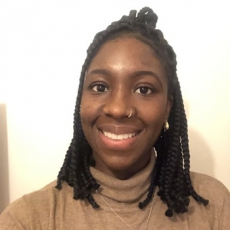 Rokia Ballo (she/her) is HSR UK's Project Officer, based at the Nuffield Trust in London. She has been with HSR UK since January 2021.
Rokia is a PhD student in Science and Technology Studies at UCL. Her research looks at the construction, communication and use of science and evidence in UK policymaking and whther/how these processes impact health and social inequalities. Rokia is also co-chair of Science London, a voluntary organisation that hosts events to support researchers to employ equitable practice in their work and outreach with communities. Before her studies, Rokia worked as a Client Services Manager for a dynamic Healthcare communications and marketing agency, delivering multi-channel disease  awareness, HCP and patient support programs across a range of therapy areas. She also has experience working as an healthcare assistant for the NHS. 
If you would like to get in touch with Rokia please drop her a line at rokia.ballo@nuffieldtrust.org.uk.