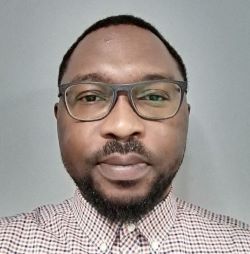 Paul Agu is HSR UK's Administration and Membership Officer, based at the Nuffield Trust in London. 
Paul joins HSR UK from the University of Bradford's Centre for Inclusion and Diversity, where he worked as a research associate on Responsible Research and Innovation Networked Globally (RRING), a global project funded by the European Union under the Horizon 2020 Framework Programme for Research and Innovation. He co-authored a report chapter Responsible research and innovation best practices and learning opportunities: Thematic focus analysis on the role of gender equality, diversity, and inclusion, as part of the deliverables of the RRING project, and coordinated the 10th anniversary of the Making diversity interventions count annual international conference hosted by the Centre for Inclusion and Diversity, University of Bradford.  
Currently, Paul is a postgraduate research student (PhD) at the faculty of health studies University of Bradford. His research explores health workforce gaps in rural and remote areas in developing and developed economies, and evidence-based equity-centred bundles of interventions for addressing the gaps.  
If you would like to get in touch with Paul please drop him a line at [email protected]